In my family we've always had a Thanksgiving tradition, the night before thanksgiving all the women (only one boy was allowed and that was my grampa because he is bangarang at making pies especially in bulk) get together to make yummy pies of every kind and make fun place cards for the table. (Then when we set the place cards out it was almost certain someone would come along and switch where they were sitting.) My mom always did a really good job at keeping it different each year. So to pass along the tradition of place cards here are a few ideas I drummed up from web surfing.
I love the Fabric leaves above a nice simple but beautiful touch.
Great little Pilgrims hat that you can fill with anything. Popcorn, M&M, Nuts, Cranberries or my mom's nut mix she always used and is a big hit in our family- Honey roasted peanuts, Small butter mints, and Candied corn.
This place card was made out of recycled paper. I love the design and the feathers and the kiddos can help with it!
These look scrumptious and serve at an appetizer too. What a fun little turkey to have on the table. Made out of 2 oreos, a mini reese peanut butter cup, a whopper for the head, candied corn for the feathers and nose, and don't forget the decorators frosting for the eyes and legs. 80)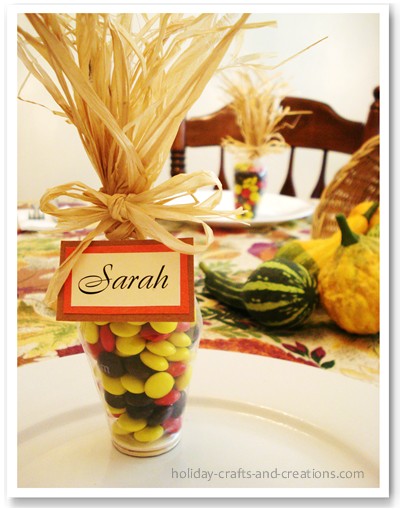 For the sophisticated table a small vase of Reese's pieces topped of with a bundle of raffia to look like Indian corn too cute.
Last but not least why not tie it into your meal with this fun little turkey head on a skewer poked into a roll that looks like turkey feet. Very fun.
Hope everyone has a very "FULL"FILLING Thanksgiving. 80)
Truly, Mrs. Gifted 80)